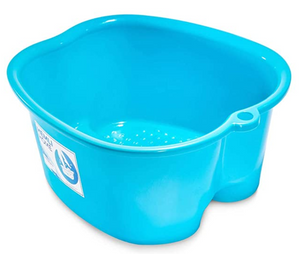 Extra large foot soaking basin - This basin measures 15"L x 14"W x 7"H on the outside and 11''L x 10.5'' x 7'' on the inside. It can fit up to a men's size 11 feet. It's the perfect size for a DIY home foot spa.

The durable polypropylene plastic is both lightweight and crack resistant. This foot tub will last for years to come.

The plastic is BPA-free and will not warp with hot water or bath salts.

Built-in massage dots - the bottom of our basin is lined with dots, both big and small. Simply run your feet along the small dots for a full foot massage while using the large center arch massagers to help relax your tired arches.

The built-in loop makes for easy storage.

Once your spa treatment is complete simply hang the foot tub in a convenient location until you're ready to use it again.