THE WRAP-Our Signature Product
We have carefully designed our multi-purpose fabric coverup by utiliizing quick drying, lycra & polyester swimsuit fabric and by modifying the McCall's 1970s infamous terry cloth wrap towel.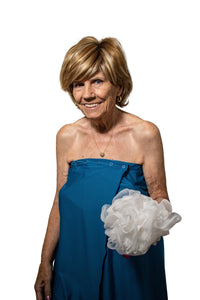 Benefits and Uses
RESTORE DIGNITY | covers private areas
NURTURE CONVERSATION | ability to focus on talking versus uncomfortable feelings
INCREASE SAFETY | wet skin is slippery, THE WRAP may help to reduce losing grip. Also, stand closer and respond more quickly to a Loved One's movements
CLEANSE BETTER | use as a washcloth - the perforated, but gentle fabric, allows bubbles to form.
PROVIDE COMFORT | layer of fabric between seat and tush
THE WRAP MAY NOT FULLY COVER BODY - THIS IS INTENTIONAL TO LET BODY FEEL THE WATER.  ROTATE THE WRAP SO THAT THE OPENING IS TO SIDE OR THIGH.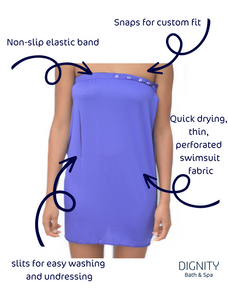 Our Other Carefully Chosen Products
Our other products allow for a layer of separation between caregiver and loved one, fill the bathroom with a wonderful scent, help keep a loved one warm, and many more spa like benefits
Testimonial
"Thank you for creating such a great wrap. I recently started helping my dad take a shower and we use your wrap.   It is a life saver so that he is not naked in front of me.  He has vascular dementia and gets confused etc and needs help with all things."

Kathryn, Tampa, FL
"My sister's caregiver and husband love it [the Wrap]. They say it is very helpful; Nancy is less disruptive. She used to get angry when you moved her in and out of her wheelchair. Now the covering makes it faster and more comfortable" 

Mary, Laguna Beach, CA
"My mom used your wrap and it was a good experience for her!"

Leslie, Lake Forest, CA
"The Wrap is perfect because my mom lost her memory but had her modesty. She couldn't remember the caregivers, so she thought strangers were looking at her naked each time."

Irma, San Diego, CA