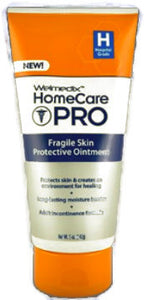 Welmedix Fragile Skin Protective Ointment
Best repair treatment with calendula for sensitive skin/instantly soothe and protect dry, cracked & Iiritated skin/eczema, psoriasis & rosacea care 
Hospital-grade formula protects sensitive areas, and soothes and hydrates dry, cracked, irritated skin from head-to-toe.

Works to prevent future irritation. When used regularly, it provides soothing relief and protection throughout the day.

Recommended for caregivers managing fragile skin affected by aging, disability and disease. Use it as a spot treatment for eczema, incontinence, pressure areas, and dry cracked heels.

Specially balanced and enriched with nature's best botanicals including coconut oil, aloe, and calendula, to nourish fragile skin.

Gently cleanse and dry the affected area and massage ointment in liberally as needed. For moisture barrier to help prevent diaper rash apply regularly.